My signature tag since about the mid-90s is a little something I came up with: "It's hard to reach for a star and still keep your shirt tucked in." That's something that just begs to be put on a mug or a t-shirt. Well… now it is.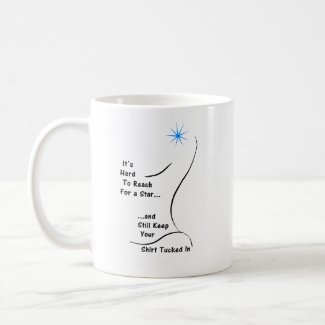 Reach For a Star 11oz Mug RoH
by
cjcs_com
Create a custom travel mug
with zazzle
To accompany this little aphorism, I've also created a new graphic to frame it and give it a little context.
What does it mean? Basically that there's often a balance to be struck in life: to reach for our dreams or go with the conventional. There's a lot to be said for both. Either way, there will likely be a consequence attached. Life's funny that way.
This saying and design is a way to salute both those who choose the stability found with the tucked shirt as well as those willing to risk following their dreams.
At any rate, the graphic is now available on a growing line of products. I've started with coffee mugs (right- and left- handed designs) as well as tees. I'll be adding more as time allows.
I'm doing this in lieu of those donation buttons you see on a lot of web sites. If you like this site, a purchase (or twenty) will help pay for its continued operation. Think of it as a donation button, except you also get a nifty product for your trouble. I've kept the prices as low as possible, so this is more of a volume thing (hint, hint).